MicroCures' candidate, MCR-111, is initially being developed for excisional wound repair.  In independently conducted and validated preclinical studies, the treatment has consistently demonstrated the ability to significantly accelerate and enhance the repair of excisional wounds. 
When compared to control subjects, those animals treated with MCR-111 demonstrated:
Significant increases in the rate of wound epithelialization
Significant improvements in skin structure after healing including an increase in the density and organization of mature dermal collagen and enhanced restoration of hair follicles and sweat glands
Significant improvements in restoration of healthy vasculature
Porcine Excisional Wound Repair Following Topical Treatment with MCR-111, siControl or Placebo Every Other Day for 21 Days 
Pigs treated with MCR-111 demonstrated significantly improved and accelerated healing of excisional wounds as compared to both placebo and control subjects.  Wounds were measured precisely using 3D laser scanning technology in order to quantify the remaining open area (highlighted within each wound).
MCR-111 Treatment Reduced Wound Area and Significantly Improved Rate of Tissue Repair in Porcine Excisional Wound Model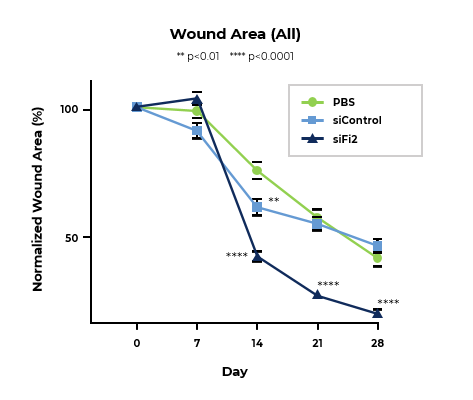 Line graph of normalized wound area at designated timepoints shows MCR-111-treated wounds healed at a significantly improved rate compared to both siControl and placebo.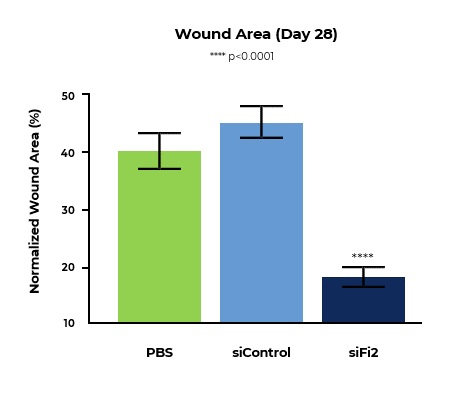 Bar graph of normalized wound area at day 28 shows MCR-111-treated wounds demonstrated statistically significant reductions in wound area of 2.19x and 2.47x compared to placebo and control, respectively.
​Based on these promising preclinical findings, MicroCures expects to file an investigational new drug (IND) application for siFi2 in excisional wounds in 2023 and initiate a Phase 1 proof-of-concept trial thereafter.
The potential to transform tissue repair.
Excisional wound repair is a multi-billion dollar market that is inadequately served with current treatment options. MicroCures believes that its proprietary cell movement acceleration platform, led by MCR-111, represents a fundamentally new and disruptive technology. It provides a much-needed alternative to today's complex, potentially unsafe and often unproven regenerative medicine treatments that are used for wound healing. 
MCR-111 is applied topically to the damaged tissue resulting in an accelerated burst of healing, after which the treated cells return to their normal rate of movement within 48 hours with no apparent long-term change to cell behavior.  The MCR-111 treatment can be repeated over a multi-day period to optimize speed and quality of tissue repair after injury.